Welcome to the Electric Car Weblog. In addition to links, news, and tips about electric cars and other forms of alternative transportation we are publishing an on-line diary of our current EV project. Started in August 2005 the chronicle follows the conversion of a gas powered Ford Probe into an
Electric Car
.
You will find articles organized by categories, along with recent comments, along the right hand column of the website. If you are just getting started with the idea of converting a gas car to electric be sure to check out
Your First Electric Car
.
Welcome and enjoy!
-Jerry
Last we looked in on our intrepid electric Yugo-naut he was trying to resurrect a dying motor. Despite his near-super powers the motor had its mind set on an early retirement.
To help the cause we gave Greg a free motor (well, free except for the crazy shipping fees). He has been breathing new life into his Yugo EV since.
I've been supporting the local economy lately: buying up lots of their old car parts and then paying a local shop to press them into place.
Last week marked the end (well, almost) of the brake and bearing work. As for the rest of the items in the "B" alphabet we are still stuck on the Battery part, but making some progress.
Good news! I've pretty much wrapped up the brake work on Eve. Yes, that means no more bad puns…at least about brakes.
This photo isn't actually of Eve's front disc brakes, but our old VW Golf. The Golf is due for inspection but the front brakes have been pretty noisy so I figured I'd work on them while working on Eve's brakes. Good thing I checked, the front rotors and pads were in pretty bad shape.
New England really needs to come up with a road de-icer that doesn't eat cars…
Bad news.
Greg's Yugo EV is in need of a motor transplant.
For those just joining us you can take a look at the first post where we cover Greg's Yugo EV.
Greg did a great job building the EV within limited means, scrounging EBay and doing a bunch of his own fabrication and construction.
Total cost for EV parts, under $800.
He had put over 1300 miles on the car with no problems when the motor started acting up.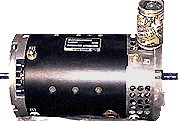 I realized the other day that some folks might be reading this EV conversion without having read our first one. One day I pop out the gas engine and a few days later a fully attached and matched electric motor is in place…
"Hey, where'd that come from?"
Let's talk about EV motors…
It may not be one of the universal truths, but when venturing into a new project you should always consider which new tools you'll be able to get away with justify buying.
This truth became self evident when I checked out the price of renting a pressure washer. For another eighty bucks I could buy a brand new one. That's exactly what I did, picking up a 1750psi electric pressure washer and a couple cans of engine cleaning solvent.
Time to do battle…