Welcome to the Electric Car Weblog. In addition to links, news, and tips about electric cars and other forms of alternative transportation we are publishing an on-line diary of our current EV project. Started in August 2005 the chronicle follows the conversion of a gas powered Ford Probe into an
Electric Car
.
You will find articles organized by categories, along with recent comments, along the right hand column of the website. If you are just getting started with the idea of converting a gas car to electric be sure to check out
Your First Electric Car

Welcome and enjoy!
-Jerry
We've registered and licensed Eve, which is kind of a waste since she'll soon be off the road for the rest of Winter. But this time I want to make sure that I take care of all of the prep-work before ripping things apart.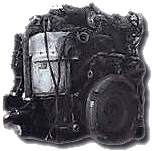 On our first EV I ended up regretting that I'd skipped this step. The old engine in the Mazda was going through oil and probably in need of a few gaskets, leaving the engine compartment very greasy. I did my best to clean it by hand, but for the most part I ended up "cleaning" it each time I worked on it, rubbing oil off onto skin and clothes.
Eve doesn't have a greasy engine, still I'm going to take a trip to the scales today to weigh her and then a trip to the car wash to get all of the road grime off of the chassis. Final stop on the way home will be to drain the A/C system.
A few folks have asked about components. Right now I'm planning on re-using pretty much everything from the old EV. The motor, controller, relays, heavy gauge wiring, and connectors are all still in fantastic shape. One of the selling points of using a Ford Probe is that the transmission is the same as the 626, which means I don't have to make a new transmission adaptor.
Even the cool, blue insulated battery boxes I fabricated are reuseable. I will have to make new steel frames to hold the boxes and, depending on space and battery types, may make a few other changes. Still not sure on the batteries. Well, I really haven't done much research yet but overall I'm pretty cheap and lazy when it comes to some things. Paying more for batteries that require special charging circuits and don't provide longer life expectancy just isn't going to cut it.
Oh, and one other thing I won't be reusing is the ceramic heater. I completely spaced out (get it? space heater…spaced out?) when tearing down the 626 and left the heater core buried in the dash. I ran across this liquid heater the other day. It looks like they make a version for the voltage range of my pack.
The nice thing about this type of heater is that you don't need to rip out the dash. Not that ripping the dash out isn't a pile of fun (more like a pile of wires). This uses the same glycol anti-freeze , although far less than with a combustion engine, to circulate the heat from the heater through the passenger compartment heater core. Also, no high voltage wires going into the passenger compartment.
By the way, I was looking through some EV websites and ran across this 1992 Ford Probe conversion done by the Miramar High School, Miramar, FL. They used 24, 6 volt lead acid batteries. Not many details though.